Custom Search




OTHER ITA WEB SITES:

- Human Anatomy
- Health Topics
- Drug Reference Encyclopedia
- Genome Dictionary
- HIV/AIDS Glossary
- International Classification
of diseases
- Geology Dictionary
- All About Diamonds
- Energy Dictionary
- USA Census Statistics
- China Statistics
- HTML Color Chart
- Seaport Codes
- Airport Codes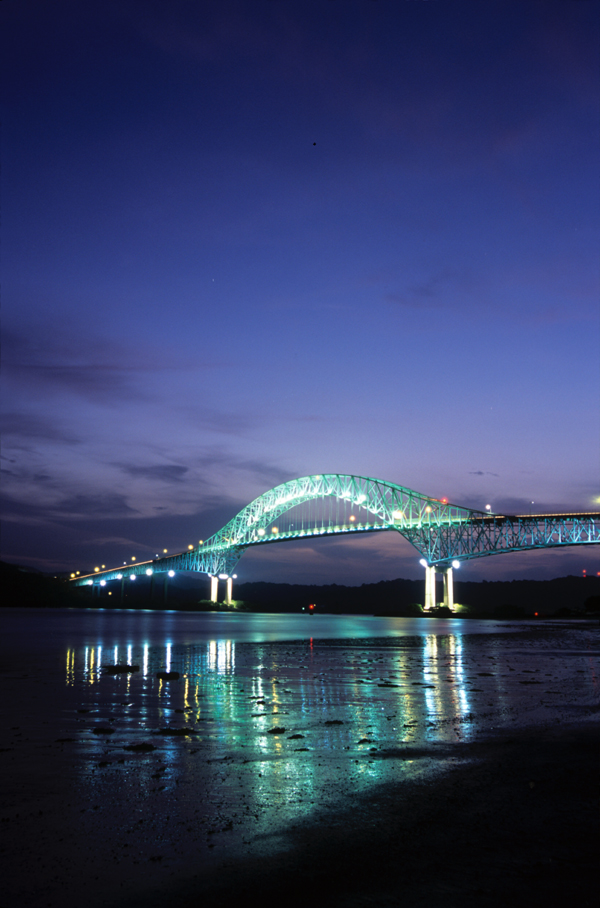 Bridge of the Americas, at the entrance of the Panama Canal
SOURCE: Photo by Alfredo Maiquez, courtesy of Authority of Tourism Panama (all rights reserved), used with permission.

The Bridge of the Americas is a steel truss arch bridge over the Pacific entrance of the Panama canal, designed and constructed by John F. Beasly & Company in 1962.

Until the opening of the Centennial Bridge in 2004, it was the only permament link between the North America and South America. At its opening, the Pan-American Highway which crosses the brige had an average traffic of about 9,500 vehicles per day, but by 2004 the traffic has increased to 35,000 vehicles per day, leading to the construction of the Centennial Bridge.

The main span of the Bridge of the Americas is 344 meters long, and the deck is 61 meters over the water level from its highest point. The 10 meter wide deck carries four road lanes and two pedestrian lanes, one on each side.


---
To submit a photo for inclusion in this web site, please send e-mail for instructions.
---
NOTE: The photograph regarding Panama on this page is re-published from Authority of Tourism Panama, an entity of the Panamanian government. No claims are made regarding the accuracy of Panama information contained here. All suggestions for corrections of any errors about Panama should be addressed to Authority of Tourism Panama.
---
- Please bookmark this page (add it to your favorites).
- If you wish to link to this page, you can do so by referring to the URL address below this line.
---
https://allcountries.org/photos/panama/panama_photos_5.html

This page was last modified 25-JAN-09
Copyright &copy 1995-2009 ITA all rights reserved.

---