Custom Search




OTHER ITA WEB SITES:

- Human Anatomy
- Health Topics
- Drug Reference Encyclopedia
- Genome Dictionary
- HIV/AIDS Glossary
- International Classification
of diseases
- Geology Dictionary
- All About Diamonds
- Energy Dictionary
- USA Census Statistics
- China Statistics
- HTML Color Chart
- Seaport Codes
- Airport Codes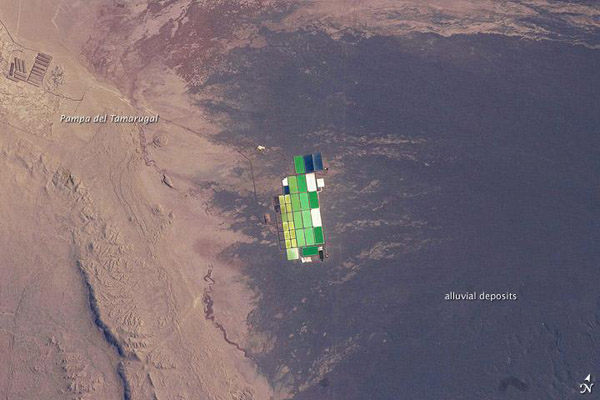 Salt ponds as seen from space, Pampa del Tamarugal, Atacama Desert.

Brightly colored solar evaporation (salt) ponds in a desert landscape give this astronaut photo an unreal quality.

The ponds sit near the foot of a long alluvial fan in the Pampa del Tamarugal, the great hyper-arid inner valley of Chile's Atacama Desert.

The alluvial fan sediments are dark brown, and they contrast sharply with tan sediments of the Pampa del Tamaruga, Chile photo. Nitrates and many other minerals are mined in this region. A few extraction pits and ore dumps are visible at upper left. Iodine is one of the products from mining; it is first extracted by heap leaching. Waste liquids from the iodine plants are dried in the tan and brightly colored evaporation ponds to crystallize nitrate salts for collection. The recovered nitrates are mainly used for fertilizer for higher-value crops. They are also used in the manufacture of pharmaceuticals, explosives, glass, and ceramics, as well as in water treatment and metallurgical processes.

PHOTO SOURCE: Image courtesy of NASA.
---
NOTE: The information regarding Chile on this page is re-published from other sources. No claims are made regarding the accuracy of Chile information contained here. All suggestions for corrections of any errors about Chile photos should be addressed to the copyright owner noted below the photo.
---
- Please bookmark this page (add it to your favorites).
- If you wish to link to this page, you can do so by referring to the URL address below this line.
---
https://allcountries.org/photos/chile/chile_photos_76.html

This page was last modified 23-FEB-10
Copyright &copy 1995-2010 ITA all rights reserved.

---