OTHER ITA WEB SITES:

- Human Anatomy
- Health Topics
- Drug Reference Encyclopedia
- Genome Dictionary
- HIV/AIDS Glossary
- International Classification
of diseases
- Geology Dictionary
- All About Diamonds
- Energy Dictionary
- USA Census Statistics
- China Statistics
- HTML Color Chart
- Seaport Codes
- Airport Codes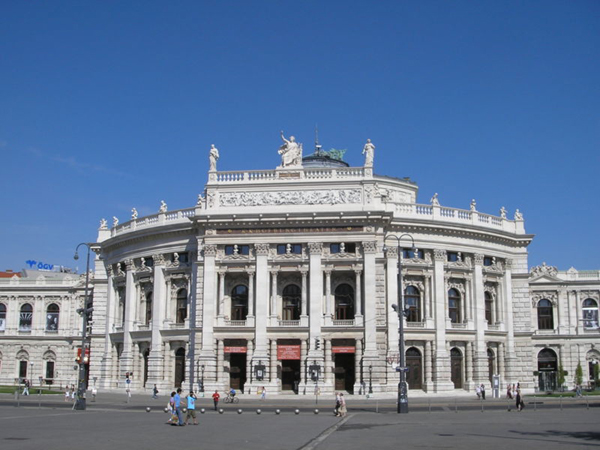 Imperial court theater (Burgtheater), Vienna
SOURCE: Wikipedia Commons photo.

The Burgtheater (the former imperial court theatre), one of the most important theatres in Europe, and the second-oldest theatre still in existence after the Comedie Francaise, was created in 1741 by Habsburg Empress Maria Theresa of Austria. Known as "die Burg" by the Viennese, it was moved to a newer building, shown above, in 1888. The building was severely damaged during the second world war and a subsequent fire, and restored in 1955.

Three Mozart operas premiered in the old Burgtheater: Die Entfuhrung aus dem Serail (1782), Le nozze di Figaro (1786) and Cosi fan tutte (1790).

Its all-German program includes all the variety of spoken theatre: classics and contemporary pieces, as well as experimental theatre and readings.

The Burgtheater has 1175 seats, 81 standing places, and room for 12 wheelchairs and escorts. In addition to the main theatre there are three other locations where Burgtheater productions are performed: the "Vestibul", a studio seating 70, located in the main building, the "Kasino" , and the "Akademietheater' theaters.


---
To submit a photo for inclusion in this web site, please send e-mail for instructions.
---
NOTE: The photograph regarding Austria on this page is re-published from other sources. No claims are made regarding the accuracy of Austria information contained here. All suggestions for corrections of any errors about Austria should be addressed to the webmaster.

---
- Please bookmark this page (add it to your favorites).
- If you wish to link to this page, you can do so by referring to the URL address below this line.
---
httpps://allcountries.org/photos/austria/austria_photos_22.html



This page was last modified 25-JAN-09
Copyright &copy 1995-2023 ITA all rights reserved.

---