OTHER ITA WEB SITES:

- Human Anatomy
- Health Topics
- Drug Reference Encyclopedia
- Genome Dictionary
- HIV/AIDS Glossary
- International Classification
of diseases
- Geology Dictionary
- All About Diamonds
- Energy Dictionary
- USA Census Statistics
- China Statistics
- HTML Color Chart
- Seaport Codes
- Airport Codes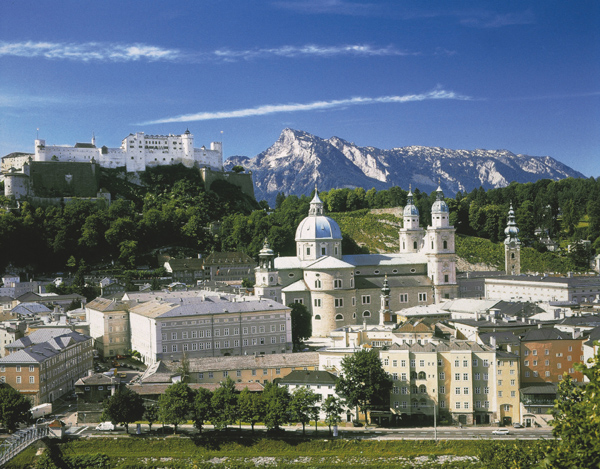 Hohensalzburg fortress, Salzburg
SOURCE: Osterreich Werbung/Weinhaeupl W., courtesy of Austrian National Tourist Office, used with permission.

Hohensalzburg Fortress dominates the skyline of Salzburg.

The 900-year-old Hohensalzburg Fortress, the city's chief landmark, is the biggest and most fully-preserved fortification in Europe. Built by Archbishop Gebhard during the investiture controversy in 1077, it served to protect the clergy and the population.

The Fortress offers visitors a stunning view of the city of Salzburg and surounding area. It is accessed from Kapitelplatz through the Festungsgasse; visitors can choose between the funicular, departing every 10 minutes, or taking a 30-minute walk to the top.

Much of the 14,000 square meters of Hohensalzburg Fortress have been turned into museums: the chambers and vaults of the Fortress Museum present relics from the fortress history, offering insight into fortress life and customs; the Rainer Regiment Museum, an impressive multimedia show; and a Marionette Museum.


---
To submit a photo for inclusion in this web site, please send e-mail for instructions.
---
NOTE: The photograph regarding Austria on this page is re-published from other sources. No claims are made regarding the accuracy of Austria information contained here. All suggestions for corrections of any errors about Austria should be addressed to the webmaster.

---
- Please bookmark this page (add it to your favorites).
- If you wish to link to this page, you can do so by referring to the URL address below this line.
---
httpps://allcountries.org/photos/austria/austria_photos_20.html



This page was last modified 25-JAN-09
Copyright &copy 1995-2023 ITA all rights reserved.

---