OTHER ITA WEB SITES:

- Human Anatomy
- Health Topics
- Drug Reference Encyclopedia
- Genome Dictionary
- HIV/AIDS Glossary
- International Classification
of diseases
- Geology Dictionary
- All About Diamonds
- Energy Dictionary
- USA Census Statistics
- China Statistics
- HTML Color Chart
- Seaport Codes
- Airport Codes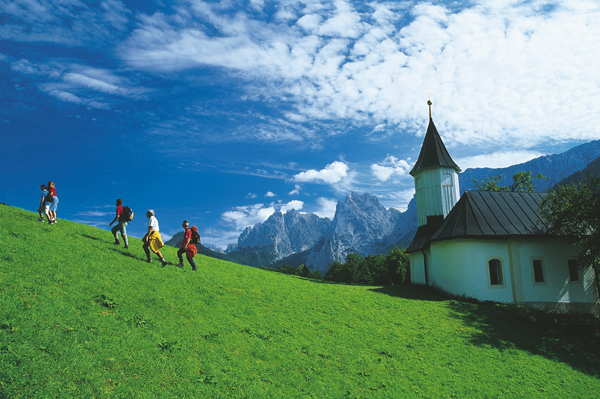 Hiking near Kufstein, Kaiser Mountains, Tyrol
SOURCE: Osterreich Werbung/Niederstrasser, courtesy of Austrian National Tourist Office, used with permission.

Kufstein, the second largest city in Tyrol, is on the river Inn, in the Wilder Kaiser mountains, near the German border.

Its main attraction is Kufstein Fortress, dating from the 13th century, an imposing structure that overlooks the city, which now houses the City Museum of Kufstein and is also used for concerts and meetings. It is reached via the panoramic 'Kaiser Maximilian' railway, which takes you right from the city centre to the fortress.

Other local attractions include: boat trips on the river Inn; Romerhofgasse street, a historic alleyway renowned for its wine bars; the sewing machine museum, the "Wilder Kaiserlift" which takes you from Kufstein to the Brentenjoch in the magnificent nature protection area of the Kaiser mountains; and several summer and winter resorts in the surrounding area.


---
To submit a photo for inclusion in this web site, please send e-mail for instructions.
---
NOTE: The photograph regarding Austria on this page is re-published from other sources. No claims are made regarding the accuracy of Austria information contained here. All suggestions for corrections of any errors about Austria should be addressed to the webmaster.

---
- Please bookmark this page (add it to your favorites).
- If you wish to link to this page, you can do so by referring to the URL address below this line.
---
httpps://allcountries.org/photos/austria/austria_photos_16.html



This page was last modified 25-JAN-09
Copyright &copy 1995-2023 ITA all rights reserved.

---