OTHER ITA WEB SITES:

- Human Anatomy
- Health Topics
- Drug Reference Encyclopedia
- Genome Dictionary
- HIV/AIDS Glossary
- International Classification
of diseases
- Geology Dictionary
- All About Diamonds
- Energy Dictionary
- USA Census Statistics
- China Statistics
- HTML Color Chart
- Seaport Codes
- Airport Codes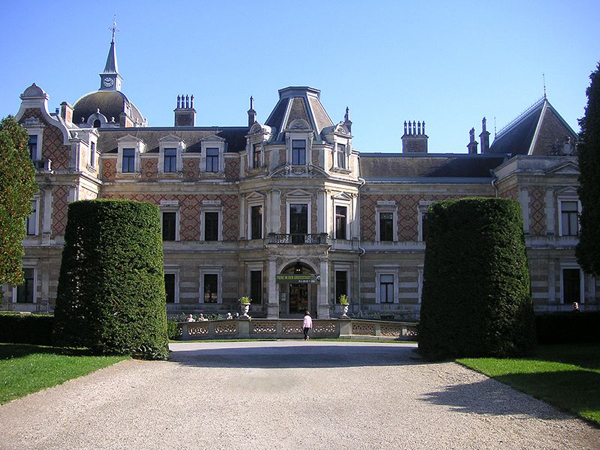 Hermes Villa, Hietzing
SOURCE: Wikipedia Commons photo.

Hermesvilla is one 19 different venues of the Vienna Museum (Wien Museum). Situated in an idyllic setting in the middle of the former imperial hunting grounds, now Lainzer Tiergarten, is the "Palace of Dreams", as Empress Elisabeth once called her villa. Emperor Francis Joseph gave it to her in the hope of persuading his wife'sa keen traveller'sto spend more time in Vienna.

It took over five years for the famous Ringstrasse architect Carl von Hasenauer to build the villa, a model for many romantic country houses devised for the haute bourgeoisie. The villa took its name from the statue of "Hermes as Guardian" standing in the garden.

The first floor contains photographs, plans and documents, and the still existent parts of the original furnishings, and many personal items belonging to the emperor and empress, conveying the imperial lifestyle away from official court etiquette. The empresss bedroom is sensational, with the huge royal bed from the time of Maria Theresa, and the murals depicting motifs from Shakespeares "A Midsummer Nights Dream" after designs by Hans Makart.

On the top floor, visitors will find highlights of the Wien Museums internationally famous fashion collection, one of the most comprehensive in Europe.


---
To submit a photo for inclusion in this web site, please send e-mail for instructions.
---
NOTE: The photograph regarding Austria on this page is re-published from other sources. No claims are made regarding the accuracy of Austria information contained here. All suggestions for corrections of any errors about Austria should be addressed to the webmaster.

---
- Please bookmark this page (add it to your favorites).
- If you wish to link to this page, you can do so by referring to the URL address below this line.
---
httpps://allcountries.org/photos/austria/austria_photos_14.html



This page was last modified 25-JAN-09
Copyright &copy 1995-2023 ITA all rights reserved.

---